...and in many different applications
Java:
ImageReader reader = new ImageReader();
IMetadata omeMetadata = MetadataTools.createOMEXMLMetadata();
reader.setMetadataStore(omeMetadata);
reader.setId("/PATH/TO/FILE");
for (int plane = 0; plane < reader.getImageCount(); plane++) {
  byte[] image = reader.openBytes(plane);
  Number timestamp = omeMetadata.getPlaneDeltaT(0, plane).value();
}

                
ImageJ macro:
run("Bio-Formats Macro Extensions");
Ext.setId("/PATH/TO/FILE");
Ext.getImageCount(imageCount);
timestamps = newArray(imageCount);
for (plane=0; plane < imageCount; plane++) {
  Ext.openImage("image #" + plane, plane);
  Ext.getPlaneTimingDeltaT(timestamps[plane], plane);
}
                
MATLAB:
r = bfGetReader("/PATH/TO/FILE");
imageCount = r.getImageCount();
omeMetadata = r.getMetadataStore();
for plane = 1:imageCount
  image = bfGetPlane(r, plane, varargin{:});
  timestamp = omeMetadata.getPlaneDeltaT(0, plane - 1).value().doubleValue();
end
                
Python:
reader = bioformats.get_image_reader(None, path="/PATH/TO/FILE")
imageCount = reader.rdr.getImageCount()
omeMetadata = javabridge.JWrapper(reader.rdr.getMetadataStore())
for plane in range(0, imageCount):
    image = reader.read(series=0, index=plane, rescale=False)
    timestamp = omeMetadata.getPlaneDeltaT(0, plane)
                
R:
reader = .jnew("loci.formats.ImageReader")
.jcall(reader, , "setId", file)
omeMetadata = .jcall(reader, "", "getMetadataStore")
image = .jcall(reader, "[B", "openBytes", 0)
timestamp = .jcall(omeMetadata, "", "getPlaneDeltaT", 0, 0)
                
Tiling
New API functions
Set and retrieve tile size along X & Y
Tiled writing for TIFF-based formats
Automatically handles tiled writing
Can still write tiles using TIFF IFD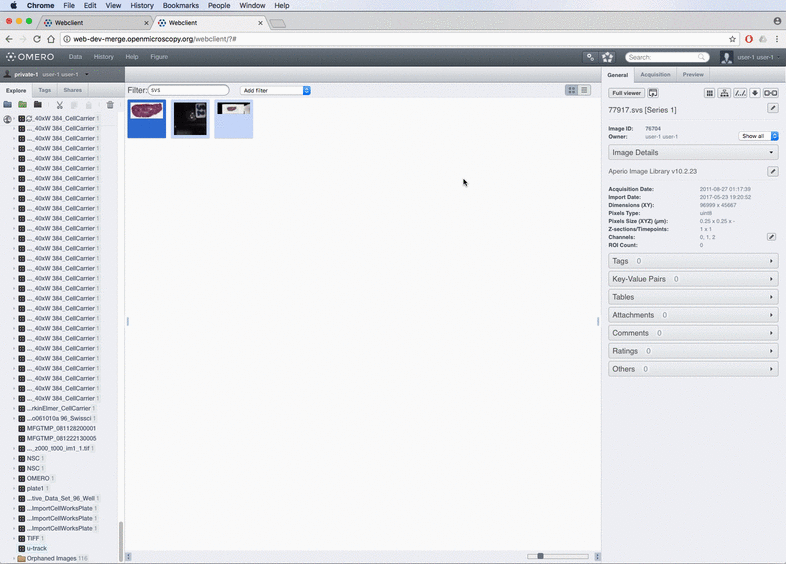 Tiling API
to set up an image writer to use tiling the following 2 API functions are provided:

public int setTileSizeX(int tileSize) throws FormatException
public int setTileSizeY(int tileSize) throws FormatException
                    
Tiling API
Each function takes in an integer parameter for the desired tile size.
The image writer will round the requested value to the nearest supported tile size.
The return value will contain the actual tiling size which will be used by the writer.
Tiling API
To find out the tiling size currently being used at any point there are 2 further API functions to get the current tile size for a writer.

public int getTileSizeX() throws FormatException
public int getTileSizeY() throws FormatException
                    
Tiled Writing - Introduction
See full example at SimpleTiledWriter
Simple Tiled Writer
// construct the object that stores OME-XML metadata
ServiceFactory factory = new ServiceFactory();
OMEXMLService service = factory.getInstance(OMEXMLService.class);
IMetadata omexml = service.createOMEXMLMetadata();

// setup the reader and associate it with the input file
reader = new ImageReader();
reader.setMetadataStore(omexml);
reader.setId(inputFile);

// setup the writer and associate it with the output file
writer = new OMETiffWriter();
writer.setMetadataRetrieve(omexml);
writer.setInterleaved(reader.isInterleaved());

// set the tile size height and width for writing
this.tileSizeX = writer.setTileSizeX(tileSizeX);
this.tileSizeY = writer.setTileSizeY(tileSizeY);

writer.setId(outputFile);
byte[] buf = new byte[FormatTools.getPlaneSize(reader)];

for (int series=0; series < reader.getSeriesCount(); series++) {
  reader.setSeries(series);
  writer.setSeries(series);

  // convert each image in the current series
  for (int image=0; image < reader.getImageCount(); image++) {
    // Read tiles from the input file and write them to the output OME-Tiff
    // The OME-Tiff Writer will automatically write the images in a tiled format
    buf = reader.openBytes(image);
    writer.saveBytes(image, buf);
  }
}
                    
Tiled Writing - Reading and Writing
See full example at TiledReaderWriter
Tiled Reader Writer
int bpp = FormatTools.getBytesPerPixel(reader.getPixelType());
int tilePlaneSize = tileSizeX * tileSizeY * reader.getRGBChannelCount() * bpp;
byte[] buf = new byte[tilePlaneSize];

for (int series=0; series < reader.getSeriesCount(); series++) {
  reader.setSeries(series);
  writer.setSeries(series);

  // convert each image in the current series
  for (int image=0; image < reader.getImageCount(); image++) {
    int width = reader.getSizeX();
    int height = reader.getSizeY();

    // Determined the number of tiles to read and write
    int nXTiles = width / tileSizeX;
    int nYTiles = height / tileSizeY;
    if (nXTiles * tileSizeX != width) nXTiles++;
    if (nYTiles * tileSizeY != height) nYTiles++;
        
    for (int y=0; y < nYTiles; y++) {
      for (int x=0; x < nXTiles; x++) {
        // The x and y coordinates for the current tile
        int tileX = x * tileSizeX;
        int tileY = y * tileSizeY;

        // Read tiles from the input file and write them to the output OME-Tiff
        buf = reader.openBytes(image, tileX, tileY, tileSizeX, tileSizeY);
        writer.saveBytes(image, buf, tileX, tileY, tileSizeX, tileSizeY);
      }
    }
  }
}
                    
Metadata Options
See full list of Reader and Writer options
new API supporting arbitrary key/value pairs
DynamicMetadataOptions class used to set options
options are now supported in the command line tools
in FIJI options are available via Bio-Formats Plugins Configuration window
Current Available Options
Reader Options

Writer Options

API Usage
Retrieving Options
MetadataOptions options = writer.getMetadataOptions();
if (options instanceof DynamicMetadataOptions) {
  boolean value = ((DynamicMetadataOptions) options).getBoolean("ometiff.companion");
}
                    
Setting Options
MetadataOptions options = reader.getMetadataOptions();
if (options instanceof DynamicMetadataOptions) {
  ((DynamicMetadataOptions) options).setBoolean("nativend2.chunkmap", true);
  reader.setMetadataOptions(options);
}
                    
Command Line Usage
Reader options can be used with showinf -option
showinf example
showinf -option nativend2.chunkmap true inputFile.nd2
                    
Writer options can be used with bfconvert -option
bfconvert example
bfconvert -option ometiff.companionoutputFile.companion.ome inputFile.tiff outputFile.ome.tiff